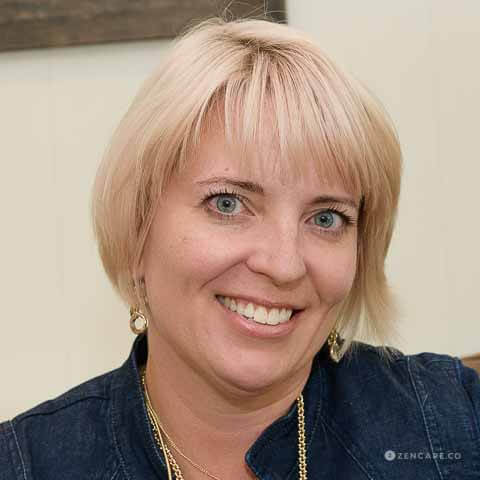 Aimee Muth
Licensed Clinical Social Worker, LCSW
Accepting new clients before 9am, in the daytime, after 5pm, and in the weekends

Offers remote video sessions
Clientele
Teenagers (13 - 18)
Young adults / college students (18 - 24)
Adults
Couples
Families
Parents
Seniors (65+)
Hours
Mon: Closed
Tue: 10:00am-7:00pm
Wed: 10:00am-7:00pm
Thu: Closed
Fri: 10:00am-7:00pm
Sat: 10:00am-7:00pm
Sun: 10:00am-7:00pm
Anxiety

Addiction

Chronic illness
Loss and grief

Trauma

Life transitions
Professional statement
Aimee Muth is a Licensed Clinical Social Worker in Old Greenwich, CT who specializes in chronic illness and medical conditions, addiction, including alcohol, opioid use, and tobacco and nicotine (vaping) cessation, life transitions, anxiety, caregiver support, trauma, and loss and grief. She works with teens, couples, and adults across the lifespan. She also has extensive experience working with young women who are feeling isolated.
Aimee takes an eclectic approach to therapy with a focus on the relationship between her and her clients. This includes Cognitive Behavioral Therapy (CBT), mindfulness practices, Supportive Therapy, and Family Systems. She meets her clients where they are and offers them a space where they can explore who they are and what they want out of life. She also teaches them healthier coping skills to navigate whatever challenges they may be facing. When working with clients with a history of addiction, Aimee primarily utilizes Motivational Interviewing and helps her clients discover external motivators for needing to stop.
Aimee offers a safe, nonjudgmental space where clients can feel comfortable being vulnerable and begin their path towards healing. Outside of private practice, she works at NY Presbyterian Hospital, where she has worked for almost two decades. She received her MSW from the Columbia University School of Social Work and completed post-grad training and certification in addiction counseling and palliative care and bereavement. She also has done tobacco cessation training. Her office is located near the Old Greenwich train stop.
Specialties
Anxiety – Coping with excessive worry, nervousness, or stress; intense discomfort in social settings (social anxiety); sudden and intense feelings of panic (panic disorder)
Addiction – Coping with emotional discomfort and suffering; reducing or abstaining from unwanted behaviors such as unhealthy unhealthy gambling, shopping, or substance misuse
Chronic illness – Receiving a diagnosis; adjusting to lifestyle and medication changes; coping with related changes in mood, emotions, and relationships; managing symptoms and stress
Loss and grief – Emotionally preparing for the anticipated passing of a loved one; managing feelings and reactions to a death or loss of significance; support during the process of healing and acceptance
Life transitions – Coping with difficult or impactful life changes, such as moving to a new area, relationship transitions, child rearing, or career changes; learning self-care to better manage resulting stress
Trauma – Coping and healing after threatening or scary events, such as witnessing accidents or experiencing sexual, verbal, emotional, or physical abuse
General expertise
Bipolar disorder – Developing coping and preventive strategies to stabilize extreme mood swings, including manic and depressive episodes; increasing effective strategies to regulate emotions and maintain a healthy daily routine
Couples counseling – Addressing relationship challenges and life transitions; strengthening communication and feelings of security, desire, connection, and love
Depression – Providing support and promoting healing of hopelessness, low motivation and energy, sadness, irritability, sleep disturbance, and loss of interest and pleasure in life
Substance abuse – Reducing and preventing the negative impact of drug and alcohol use and addictions on physical, emotional, and relational health
Out-of-pocket fees
Initial/ongoing sessions: $175 (50min)
Sliding scale: A sliding scale of $135 - $175 is offered to clients who need a reduced fee to receive therapy.
Therapist's note: Aimee can provide you with paperwork for your insurance company if you are seeking out-of-network reimbursement.
Message to clients
"Therapy is most productive when the relationship between client and therapist allows for honesty and a feeling of safety. The time with your therapist should allow you to be yourself and be able to express your thoughts and feelings without concern of judgment. I look forward to learning more about what's important to you and how I can work with you to help you meet your goals."
Education and work experience
Private Practice, 2017 - Present
NY Presbyterian Hospital, 2001 - Present
Institute for Community Living Highland Park Clinic, 2003 - 2006
Columbia University School of Social Work, MSW, 2001
New York University, Double Major in Political Science and Russian Studies