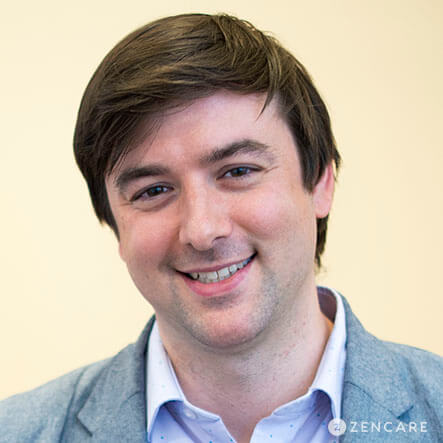 Joe Atanasio
Psychologist, PsyD
Accepting new clients in the day time and after 5pm

Flatiron District Location
Offers remote video sessions
Clientele
Teenagers (13 - 18)
Young adults / college students (18 - 24)
Adults
Parents
Seniors (65+)
Teen and Young Adult Groups for Social Anxiety
Hours
Mon: 9:00am-8:00pm
Tue: 9:00am-8:00pm
Wed: 9:00am-8:00pm
Thu: 9:00am-8:00pm
Fri: 9:00am-5:00pm
Sat: Closed
Sun: Closed
Anxiety (social and generalized)

Depression

Loss and grief
Trauma

Life transitions

Work stress and work place issues
Professional statement
Dr. Joe is a Clinical Psychologist in NYC with offices in the Flatiron District, Union Square, and Forest Hills who works with individuals ages 14 and up. He specializes in anxiety, depression, life transitions, grief and loss, work stress, and mindfulness. He particularly enjoys working with young adults who are navigating major life transitions, like graduating from college and entering the working world and/or trying to find meaning in their life.
Dr. Joe spends time understanding his clients' needs and goals before developing an individualized treatment plan. While he primarily utilizes mindfulness-based interventions, he also implements also modalities, including Cognitive Behavioral Therapy (CBT), Existential Therapy, Supportive Therapy, and psychoeducation. He frequently helps his clients develop a yoga and/or meditation practices in addition to teaching them deep breathing exercises, progressive relaxation, and other techniques that they can use in their daily lives.
Dr. Joe's sessions are client-centered, and he focuses on the individual in front of him. His goals vary depending on the client. Some of his clients need help managing their depression on a day-to-day level while others are looking to transform their grief into something meaningful and learn how to move on while still honoring their loved one.
Dr. Joe supports his clients however he can and is cognizant that everyone responds to different treatment approaches He is there to support them on their journey towards healing and/or growth. He received his PsyD from the Chicago School of Professional Psychology. His office is conveniently located near the 23rd Street subway station.
Specialties
Anxiety – Coping with excessive worry, nervousness, or stress; intense discomfort in social settings (social anxiety); sudden and intense feelings of panic (panic disorder)
Depression – Providing support and promoting healing of hopelessness, low motivation and energy, sadness, irritability, sleep disturbance, and loss of interest and pleasure in life
Loss and grief – Emotionally preparing for the anticipated passing of a loved one; managing feelings and reactions to a death or loss of significance; support during the process of healing and acceptance
Trauma – Coping and healing after threatening or scary events, such as witnessing accidents or experiencing sexual, verbal, emotional, or physical abuse
Life transitions – Coping with difficult or impactful life changes, such as moving to a new area, relationship transitions, child rearing, or career changes; learning self-care to better manage resulting stress
Work stress and work place issues – Managing overwhelming stress and expectations; increasing effective ways of restoring and maintaining emotional stability and health; addressing challenging relationships with coworkers and bosses
General expertise
Existential crises – Supportive exploration of meaning and purpose in one's life; finding one's path in the face of existential anxiety, dread, and feelings of meaninglessness
Parenting – Helping parents develop and implement strategies to address challenges that arise throughout childrearing; managing stress and increasing support
Relationships – Understanding one's wants and needs in relationships; exploring patterns of interaction, addressing concerns, and strengthening satisfaction in relationships and dating
Self-esteem – Cultivating self-compassion, assertiveness, and confidence; developing ways to reduce suffering, anxiety, social withdrawal, and self-neglect
Stress management – Strengthening effective ways of coping with the stress of life and change; managing expectations of self and others
Insurances
Dr. Joe is not in-network with any insurances.
Read about the benefits of seeing an out-of-network provider here.
Out-of-pocket fees
Initial/ongoing sessions: $170 (50min)
Sliding scale: A sliding scale of $120 - $170 is offered to clients who need a reduced fee to receive therapy.
Therapist's note: Dr. Joe can provide you with paperwork for your insurance company if you are seeking out-of-network reimbursement.
Message to clients
"I would be honored to join you on your journey of becoming your best self. I strive to engage my clients with a nonjudgmental approach that facilitates building insight, personal meaning, and emotional management."
Education and work experience
Private Practice, 2016 - Present
CHE Behavioral Health Services, Clinical Psychologist, 2014 - 2019
Chicago School of Professional Psychology, Clinical Forensic Psychology PsyD, 2010 - 2015
John Jay College of Criminal Justice Forensic Psychology, MA, 2007 - 2009