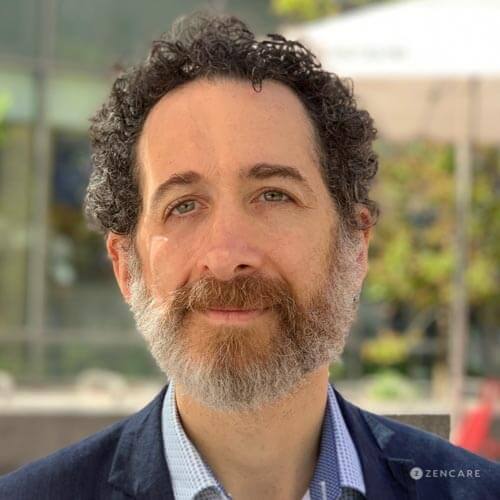 Jonathan Schnapp
Licensed Clinical Social Worker, LCSW
Accepting new clients for daytime appointments

Clientele
Young adults / college students (18 - 24)
Adults
Couples
Parents
Seniors (65+)
Hours
Mon: Closed
Tue: 11:00am-7:30pm
Wed: Closed
Thu: 11:00am-7:30pm
Fri: Closed
Sat: 10:00am-4:00pm
Sun: Closed
Depression

Anxiety

Relationships

Artists' mental health

Body dysmorphia

Cultural adjustment
Self-esteem

Identity development

Personality disorders

Life transitions

Creative professionals

Perfectionism

Work stress
Professional statement
Jonathan Schnapp is a Licensed Clinical Social Worker in Midtown East, New York. His practice focuses on self-exploration and helping clients better understand themselves in order to effectively pursue their goals. Many of Jonathan's clients come to his office when they are experiencing depression, anxiety, and relationship challenges, and he supports them to recognize the past events and underlying beliefs that shape their views of themselves and the world.

Jonathan values exploring the full possibility of each individual's identity: who they are, what their goals are, and how the ways in which they see themselves may self-limiting. While his training is rooted in psychoanalysis, his approach is flexibility tailored to each client's unique challenges, patterns, and goals. He focuses on tapping into his clients' inner strengths and resiliencies, and collaboratively celebrates each success.

Jonathan completed his training at The Metropolitan Institute for Training in Psychoanalytic Therapy (MITPP) and received his Master's in Social Work from the Fordham Graduate School of Social Services. His private practice is conveniently located near Grand Central Station, and is open to individual psychotherapy for adults of all ages.
Specialties
Depression – Providing support and promoting healing through hopelessness, low motivation and energy, sadness, irritability, sleep disturbance, and loss of interest and pleasure in life
Anxiety – Coping with excessive worry, nervousness, or stress; intense discomfort in social settings (social anxiety); sudden and intense feelings of panic (panic disorder)
Relationships – Understanding one's wants and needs in relationships; exploring patterns of interaction, addressing concerns, and strengthening satisfaction in relationships and dating
Self-esteem – Cultivating self-compassion, assertiveness, and confidence; developing ways to reduce suffering, anxiety, social withdrawal, and self-neglect
Identity development – Understanding, accepting, and strengthening one's sense of self through the exploration of family, work, and personal values
Personality disorders – Support reducing emotional suffering and addressing relationship challenges
Self-sabotaging behaviors– Building skills and supports to cope with emotional pain, suffering, and numbness; increasing positive behaviors
Life transitions – Coping with difficult or impactful life changes, such as moving to a new area, relationship transitions, child rearing, or career changes; learning self-care to better manage resulting stress
Artists' mental health – Understanding of highly creative minds; goal setting related to the artistic and creative process; support finding meaningful balance in one's life
Body dysmorphia – Coping with negative beliefs and feelings of shame about one's appearance; building skills to manage distressing situations and thought patterns
Cultural adjustment – Acclimating to a new environment; managing stress and coping with feelings of loss and separation from familiar people and places
Perfectionism – Coping with feelings of anxiety, stress, self-criticism, and procrastination; addressing unrealistic expectations of one's self and negatively comparing self to others
Work stress – Managing overwhelming stress and expectations; increasing effective ways of restoring and maintaining emotional stability and health; addressing challenging relationships with coworkers and bosses
General expertise
Compulsive behaviors – Coping with overwhelming urges and impulses, such as hair pulling or skin picking; developing alternative ways to reduce stress and alleviate suffering
Existential challenges – Supportive exploration of meaning and purpose in one's life; finding one's path in the face of existential anxiety, dread, and feelings of meaninglessness
Obsessive Compulsive Disorder (OCD) – Reducing unwanted intrusive thoughts and rituals by gradually building comfort and confidence facing difficult fears, thoughts, and emotions
Stress management – Strengthening effective ways of coping with the stress of life and change; managing expectations of self and others
Insurances
Jonathan is not in-network with any insurances.
Read about the benefits of seeing an out-of-network provider here.
Out-of-pocket fees
Initial/ongoing sessions: $250/session (45min)

Couples sessions: $300/session
Sliding scale: A sliding scale of $125 - $250 is offered to clients who need a reduced fee to receive therapy.
Therapist's note: Jonathan can provide you with paperwork for your insurance company if you are seeking out-of-network reimbursement.
Message to clients
"Reaching out for help can be hard. I do my best to create a safe and nonjudgmental space, to enable you to share whatever you need to, whenever you are ready to. Together we can explore your inner world, in order to help you be your best self."
Education and work experience
Private Practice, 2015 - Present
Metropolitan Center for Mental Health, 2010 - 2015
Fordham Graduate School of Social Services, MSW, 2011
Purchase College, SUNY, BFA, 1992