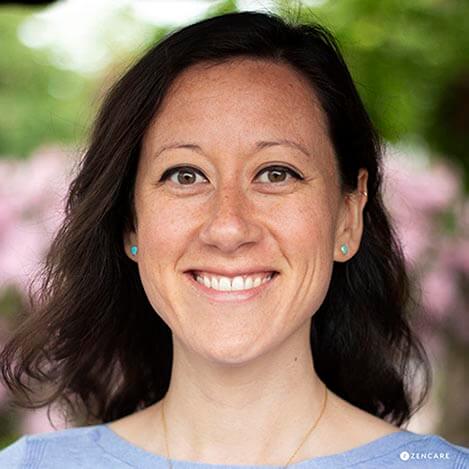 Kate Stewart
Psychologist, PhD
Accepting new clients daytime, after 5pm

Beginning Sept. 2019, Dr. Stewart will be offering only remote sessions to RI-based clients.
Clientele
Young adults / college students (18 - 24)
Adults
Hours
Mon: 3:00pm-6:00pm
Tue: 9:00am-12:00pm
Wed: 9:00am-6:00pm
Thu: Closed
Fri: 9:00am-6:00pm
Sat: Closed
Sun: Closed
LGBQ+ and sexuality

Gender identity and trans health

Race and cultural identity
Mood disturbance

Relationships

Trauma
Professional statement
Dr. Kate Stewart is a Clinical Psychologist in Madison, WI who specializes in working with college students—including undergrads, grads, medical, and law students—though she sees adults across the lifespan. She also specializes in depression, anxiety, relationships, and trauma. She particularly enjoys working with members of the LGBTQIA and POC communities. In addition, she has extensive experience working with individuals who are considering gender-affirming actions and procedures.
Dr. Stewart takes an eclectic treatment approach that integrates a number of different treatment modalities, including Psychodynamic Therapy, Acceptance and Commitment Therapy (ACT), Cognitive Behavioral Therapy (CBT), and mindfulness practices, including gratitude exercises. She considers herself to be a humanistic and relational psychologist who believes it is very important to spend time understanding the cultural context of a client's life before moving into a treatment plan. She educates her clients on their symptoms and what may be contributing to them before moving into evidence-based techniques her clients can use to manage them. She frequently checks in with her clients to see how they are feeling and ensure they are moving towards their goals.
Dr. Stewart's warmth and compassion are apparent the moment clients meet her. Outside of private practice, she works at the Roger Williams University Counseling Center. She did her postdoctoral fellowships at the Providence VA Medical Center and Brown University's Counseling and Psychological Services. She received her PhD from American University.
Specialties
LGBTQIA topics – Exploring topics of sexuality, gender, and identity; coping with discrimination and oppression; navigating relationship, family, and cultural challenges
Gender identity & transgender health – Exploring gender identity, including trans, non-binary, and gender variant identities; support throughout the process of transition
Race & cultural identity – Exploring topics of racial, cultural, and ethnic background as it relates to one's family origins and personal identity
Relationships – Understanding one's wants and needs in relationships; exploring patterns of interaction, addressing concerns, and strengthening satisfaction in relationships and dating
Anxiety – Coping with excessive worry, nervousness, or stress; intense discomfort in social settings (social anxiety); sudden and intense feelings of panic (panic disorder)
Mood disorders – Depression, Dysthymia (mild depression), Bipolar Disorder, Adjustment Disorder with Depression
General expertise
Anger management – Addressing sudden outbursts of anger or sustained resentment; developing healthy anger expression and outlets
Existential crises – Supportive exploration of meaning and purpose in one's life; finding one's path in the face of existential anxiety, dread, and feelings of meaninglessness
Life transitions – Coping with difficult or impactful life changes, such as moving to a new area, relationship transitions, child rearing, or career changes; learning self-care to better manage resulting stress
Loss and grief – Emotionally preparing for the anticipated passing of a loved one; managing feelings and reactions to a death or loss of significance; support during the process of healing and acceptance
Personality disorders – Support reducing emotional suffering and addressing relationship challenges
Spirituality & religion – Exploring beliefs and practices related to meaning, existence, and spiritual health and healing; enjoying a deeper felt connection with the spiritual dimension of one's life
Substance use – Reducing and preventing the negative impact of drug and alcohol use and addictions on physical, emotional, and relational health
Trauma – Coping and healing after threatening or scary events, such as witnessing accidents or experiencing sexual, verbal, emotional, or physical abuse
Insurances
Dr. Stewart is not in-network with any insurances.
Read about the benefits of seeing an out-of-network provider here.
Out-of-pocket fees
Initial/ongoing sessions: $150 (50min)
Sliding scale: A sliding scale of $60 - $150 is offered to clients who need a reduced fee to receive therapy.
Therapist's note: Dr. Stewart can provide you with paperwork for your insurance company if you are seeking out-of-network reimbursement.
Message to clients
"I learn a lot from my clients. One of the most important lessons that I've learned is that our relationships -- to other people, to ourselves, our work, our emotions, and countless other aspects of daily life -- are powerful. By looking at your relationships together, we can bring understanding to your challenges and empower you to take actions that establish and grow your well-being."
Education and work experience
Roger Williams University Counseling Center, 2018 - Present
Brown University Clinical Psychology Training Consortium, 2016 - 2018
Providence VA Medical Center, Postdoctoral Fellowship, 2017 - 2018
Brown University Counseling and Psychological Services, Postdoctoral Fellowship, 2016 - 2017
Oregon State University Counseling and Psychological Services, Predoctoral Internship, 2015 - 2016

American University, PhD, 2016
Boston College, BA, 2009