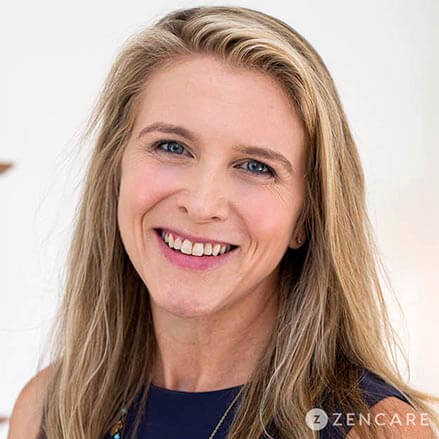 Sarah Gundle
Psychologist, PsyD
Accepting new clients for daytime and evening appointments

Clientele
Young adults / college students (18 - 24)
Adults
Couples
Family
Parents
Seniors (65+)
Hours
Mon: Closed
Tue: 9:00am-9:00pm
Wed: 9:00am-9:00pm
Thu: 9:00am-9:00pm
Fri: Closed
Sat: Closed
Sun: Closed
Couples counseling

Depression

Trauma
Anxiety

Parenting

Career counseling
Professional statement
Dr. Sarah Gundle is a Licensed Clinical Psychologist in Midtown, Manhattan specializing in trauma, PTSD, depression, anxiety, parenting, and career counseling. Her practice focuses on supporting individuals who have experienced trauma, particularly sexual trauma, to process their emotions, and build coping skills. In addition to offering individual and couples session, Dr. Gundle facilitates three groups for trauma survivors, empowering them to regain control and move forward with greater confidence into the future.
In addition to her work with trauma survivors, she has expertise in couples work, particularly in break-up therapy. She helps partners go through this difficult process and cope in healthy ways while maintaining respect and appreciation for each other.
Dr. Gundle has been extensively trained in psychodynamic, CBT, DBT, and interpersonal techniques. She offers both short- and long-term exposure therapy with an emphasis on grounding skills and mindfulness.
Dr. Gundle earned her PsyD from The Wright Institute and has since been highly involved in advocacy work internationally, adding unique depth to her clinical work. Her office is conveniently located a short walk from Penn Station and the 33rd. Street subway station
Specialties
Couples counseling – Addressing relationship challenges and life transitions; strengthening communication and feelings of security, desire, connection, and love
Depression – Providing support and promoting healing through hopelessness, low motivation and energy, sadness, irritability, sleep disturbance, and loss of interest and pleasure in life
Trauma – Coping and healing after threatening or scary events, such as witnessing accidents or experiencing sexual, verbal, emotional, or physical abuse
Anxiety – Coping with excessive worry, nervousness, or stress; intense discomfort in social settings (social anxiety); sudden and intense feelings of panic (panic disorder)
Parenting – Helping parents develop and implement strategies to address challenges that arise throughout childrearing; managing stress and increasing support
Career counseling – Support around personal and professional growth; clarifying goals and steps to building a fulfilling career and meaningful work-life balance
General expertise
Life transitions – Coping with difficult or impactful life changes, such as moving to a new area, relationship transitions, child rearing, or career changes; learning self-care to better manage resulting stress
Post-traumatic stress disorder (PTSD) – Healing painful experiences and memories from the past
Perinatal mental health – Addressing issues specific to women and families during the pregnancy and postpartum period, including postpartum depression and anxiety
Relationships – Understanding one's wants and needs in relationships; exploring patterns of interaction, addressing concerns, and strengthening satisfaction in relationships and dating
Insurances
Dr. Gundle is not in-network with any insurances.
Read about the benefits of seeing an out-of-network provider here.
Out-of-pocket fees
Initial/ongoing sessions: $225/session (50min)
Sliding scale: A sliding scale is offered to clients who need a reduced fee to receive therapy.
Therapist's note: Dr. Gundle can provide you with paperwork for your insurance company if you are seeking out-of-network reimbursement.
Message to clients
"I believe in collaboration and in change. My approach to treating individuals combines cognitive behavioral therapy methods with stress reduction, mindfulness, and problem-solving approaches. Psychotherapy is ultimately about living a fuller, more meaningful life and I believe I can help you achieve this. There are many triggers we all face: relationship problems, identity issues, loss or trauma, perfectionism, problems setting or maintaining goals, life transitions, or just a general sense that something is wrong. I am interactive and direct in challenging dysfunctional patterns that are getting in the way of leading the life you want. I will work collaboratively with you to develop an individual plan of action, building on strengths, to bring balance, meaning, and ease into your life.
I have been extensively trained in psychodynamic, CBT, mindfulness, and Interpersonal techniques, and I tailor each person's treatment to their individual needs, providing a comprehensive and specific treatment plan for each person.
I provide psychotherapy to individuals, couples, and families. In addition, I run four groups in my practice.
In the past, I worked internationally for the UN and in the field of human rights. I have continued my international human rights work through Physicians for Human Rights, the Global Psychosocial Network, and the Mount Sinai Human rights clinic. I feel that my continued international work adds a layer of complexity and depth to my clinical work that my patients appreciate."
Education and work experience
Global Psychosocial Network, Faculty, 2015 - Present
Physicians for Human Rights, Psychologist, 2011 - Present
Private Practice, 2009 - Present
Mount Sinai Human Rights Clinic, Faculty, 2009 - Present
Mount Sinai West Department of Psychiatry, Faculty, 2002 - Present
The Wright Institute, PsyD, 2002
School of International Affairs at Columbia University, MIA, 1995
Columbia University, BA, 1994.