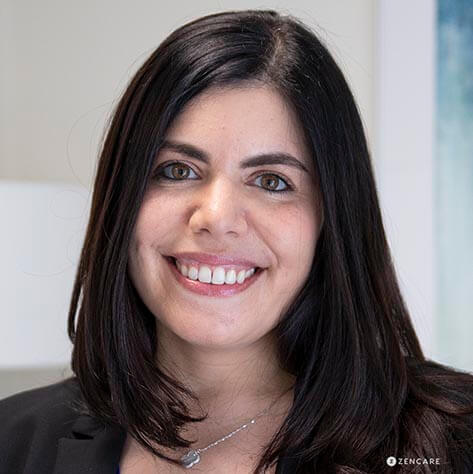 Jolie Weingeroff
Psychologist, PhD
Accepting new clients for daytime and evening appointments

Clientele
Teenagers (13 - 18)
Young adults / college students (18 - 24)
Adults
Seniors (65+)
Hours
Mon: 8:00am-8:00pm
Tue: 8:00am-8:00pm
Wed: 8:00am-8:00pm
Thu: 8:00am-8:00pm
Fri: 8:00am-8:00pm
Sat: Closed
Sun: Closed
Anxiety

Eating disorders

Emotion regulation

Self-esteem
Dialectical Behavior Therapy (DBT)

LGBTQIA topics

Relationships

College and graduate student mental health
Professional statement
Dr. Jolie Weingeroff is a Clinical Psychologist at PVD Psychological Associates in Providence, RI. She has advanced training in evidence-based therapies such as Cognitive Behavioral Therapy (CBT) and Dialectical Behavior Therapy (DBT) for adults, college students, and adolescents. Her areas of specialization include anxiety, eating disorders, difficulties with emotion regulation, low self-esteem, and relationship issues. She also has extensive experience working with LGBTQIA-identified individuals and their families.
Dr. Weingeroff ultimately wants her clients to feel empowered to take control of their lives and increase their confidence in their ability to navigate difficult situations. She teaches her clients coping skills, self-care, mindfulness, and effective communication. Dr. Weingeroff would like her clients to better understand the connection between early experiences, current thought patterns, and behavior. She utilizes her specialized training in evidence-based therapies and her collaborative style to help clients change thought patterns and behaviors, and develop more helpful ways to manage their emotions. She meets clients where they are and maintains an open dialogue with them to make sure they feel they are making progress in therapy. Dr. Weingeroff is happy to be back in her hometown of Providence and work with the greater Rhode Island community.
Specialties
College & graduate student mental health – Specialized strategies for common issues of young adulthood, including school and career stressors, support around healthy relationships, existential concerns, drug or alcohol issues, eating disorders, and anxiety and/or depression
Eating disorders – Reducing unhealthy eating patterns, beliefs, and behaviors, such as restricting, purging, and binging; healing the emotional pain surrounding disordered eating
Anxiety – Coping with excessive worry, nervousness, or stress; intense discomfort in social settings (social anxiety); sudden and intense feelings of panic (panic disorder)
Relationships – Understanding one's wants and needs in relationships; exploring patterns of interaction, addressing concerns, and strengthening satisfaction in relationships and dating
LGBTQIA topics – Exploring topics of sexuality, gender, and identity; coping with discrimination and oppression; navigating relationship, family, and cultural challenges
Self-esteem – Cultivating self-compassion, assertiveness, and confidence; developing ways to reduce suffering, anxiety, social withdrawal, and self-neglect
Emotion Regulation - Developing a better understanding of what factors contribute to intense emotions and learn skills to modulate and respond to emotions
General expertise
Depression – Providing support and promoting healing of hopelessness, low motivation and energy, sadness, irritability, sleep disturbance, and loss of interest and pleasure in life
Gender identity & transgender health – Exploring gender identity, including trans, non-binary, and gender variant identities; support throughout the process of transition
Life transitions – Coping with difficult or impactful life changes, such as moving to a new area, relationship transitions, child rearing, or career changes; learning self-care to better manage resulting stress
Obsessive compulsive disorder (OCD) – Reducing unwanted intrusive thoughts and rituals by gradually building comfort and confidence facing difficult fears, thoughts, and emotions
Post-traumatic Stress Disorder (PTSD) – Healing painful experiences and memories from the past
Personality disorders – Support reducing emotional suffering and addressing relationship challenges
Sleep disorders – Exploring ways to improve sleep patterns, develop healthy sleep hygiene, master relaxation techniques, manage stressors, reduce worrying, and address insomnia
Stress management – Strengthening effective ways of coping with the stress of life and change; managing expectations of self and others
Trauma – Coping and healing after threatening or scary events, such as witnessing accidents or experiencing sexual, verbal, emotional, or physical abuse
Infertility – Understanding infertility interventions and solutions; support during decision-making processes; coping with fertility problems and pregnancy loss
Insurances
Blue Cross Blue Shield

Brown University Student Insurance

Johnson & Wales University

Providence College

RISD Student Insurance

URI / University of Rhode Island Student Insurance

UnitedHealth Student Resources
Out-of-pocket fees
Initial/ongoing sessions: $200/session (45min)
Therapist's note: Dr. Weingeroff can provide you with paperwork for your insurance company if you are seeking out-of-network reimbursement.
Message to clients
"I believe that developing an authentic and collaborative therapeutic relationship is the foundation of treatment. I maintain a validating environment to explore and develop a shared understanding of what brings my clients to therapy and how we can work together to accomplish specific goals.

My style is direct, active, and flexible, with a focus on what works for each individual client. My clients describe me as authentic and able to challenge them in a respectful and caring manner, sometimes while using humor.

I appreciate how challenging the process of change can be and have a great deal of respect for anyone seeking treatment. It is an honor to accompany my clients on their process of self-discovery and growth, and see them achieve a sense of confidence in themselves, satisfaction with their life, and greater fulfillment. I look forward to hearing from you so we can begin this important process together."
Education and work experience
PVD Psychological Associates, Licensed Psychologist, 2018 - Present
Center for Dynamic and Behavioral Therapy, Co-Founder and Licensed Psychologist, 2016 - Present
Back Bay CBT, Founder and Licensed Psychologist, 2014 - 2016
Private Practice, 2012 - 2014
CBT/DBT Associates, Postdoctoral Fellow, 2011 - 2012
Montefiore Medical Center/Albert Einstein College of Medicine, Psychology Intern, 2010 - 2011
Boston University, PhD, 2012
Boston University, MA, 2007
Brandeis University, BA, 2005