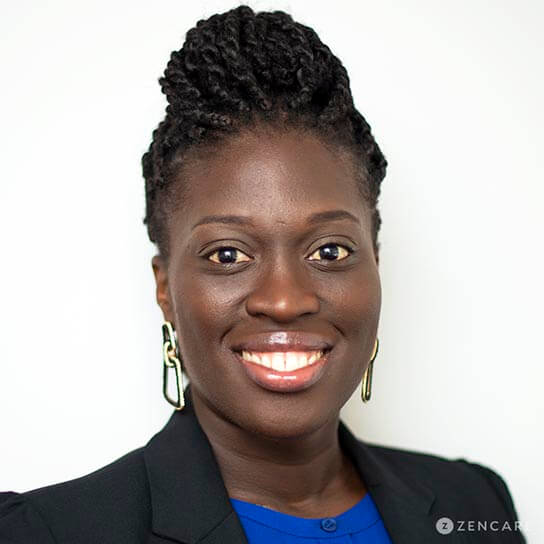 Kezzia Quintyne-Hilaire
Licensed Mental Health Counselor, LMHC, CASAC
Accepting new clients in the daytime, after 5pm, and in the weekend

Offers remote video sessions
Clientele
Teenagers (13 - 18)
Young adults / college students (18 - 24)
Adults
Couples
Families
Parents
Hours
Mon: 9:00am-8:00pm
Tue: Closed
Wed: Closed
Thu: Closed
Fri: 9:00am-7:00pm
Sat: 9:00am-8:00pm
Sun: Closed
Women issues

Relationships

Adjustment challenges
Professional statement
Kezzia Quintyne-Hilaire is a Licensed Mental Health Counselor in Brooklyn, NYC. She works with both individuals and couples of all ages and specializes in women's issues, trauma, depression, and anxiety. She also enjoys working with people of color and strives to make her practice accessible to all.
Kezzia utilizes a combination of evidence-based therapies, including Cognitive Behavioral Therapy (CBT), Dialectical Behavioral Therapy (DBT), mindfulness practices, Solution-Focused Therapy, and Supportive Therapy. She meets her clients where they are and helps them develop attainable goals. She helps her clients better understand how their thoughts influence emotions before introducing new coping strategies to manage their symptoms and change thought patterns. She will also give homework, if a client is open to it.
When working with couples, Kezzia uses the Gottman Method to help couples improve communication and regain one another's trust. She believes in couples learning how to be each other's best friends to improve their relationship.
Kezzia's goal is to help her clients better understand themselves and feel more confident taking on life's challenges. She is there to guide them every step of the way by offering a safe and supportive environment. Prior to moving into private practice, she worked in the social work field. Her office is located just steps from the Borough Hall subway station in Brooklyn Heights.
Specialties
Women's issues – Finding one's voice as a woman; letting go of shame; self-care and healing
Adjustment challenges – Includes adjusting to college, new relationships, career transitions, and direction
Anxiety – Coping with excessive worry, nervousness, or stress; intense discomfort in social settings (social anxiety); sudden and intense feelings of panic (panic disorder)
Depression – Providing support and promoting healing of hopelessness, low motivation and energy, sadness, irritability, sleep disturbance, and loss of interest and pleasure in life
Relationships – Understanding one's wants and needs in relationships; exploring patterns of interaction, addressing concerns, and strengthening satisfaction in relationships and dating
Trauma – Coping and healing after threatening or scary events, such as witnessing accidents or experiencing sexual, verbal, emotional, or physical abuse
General expertise
Post-traumatic Stress Disorder (PTSD) – Healing painful experiences and memories from the past
Parenting – Helping parents develop and implement strategies to address challenges that arise throughout childrearing; managing stress and increasing support
Race & cultural identity – Exploring topics of racial, cultural, and ethnic background as it relates to one's family origins and personal identity
Self-esteem – Cultivating self-compassion, assertiveness, and confidence; developing ways to reduce suffering, anxiety, social withdrawal, and self-neglect
Stress management – Strengthening effective ways of coping with the stress of life and change; managing expectations of self and others
Substance abuse – Reducing and preventing the negative impact of drug and alcohol use and addictions on physical, emotional, and relational health
Insurances
Beacon Health

Cigna

MagnaCare

The Empire Plan
Out-of-pocket fees
Initial evaluation: $150

Ongoing sessions: $125/session (45min)
Sliding scale: A sliding scale of $85 - $125 is offered to clients who need a reduced fee to receive therapy.
Therapist's note: Kezzia can provide you with paperwork for your insurance company if you are seeking out-of-network reimbursement.
Message to clients
"There comes a time when we need some help from a licensed professional to help cope with many of life's challenges. I'm a licensed Mental Health Counselor, and I'd love to help you on your journey towards healing and self-discovery. I know that life can be overwhelming and sometimes even exhausting, but I'm here to guide you through any obstacles you may face. My goal is to help you understand yourself more deeply and better cope with change and help you become your best possible self."
Education and work experience
Private Practice, 2019
Consultant, 2019
Create Inc., 2016 - 2018
Start, 2010 - 2016
Catholic Charities, 2008 - 2010