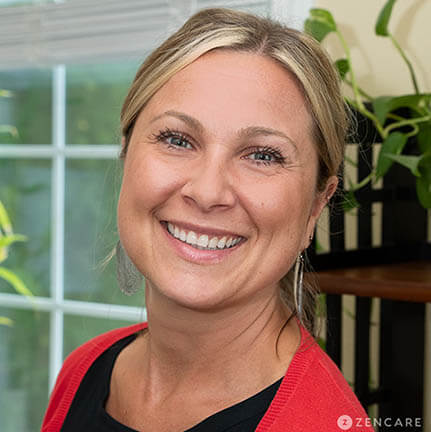 Yelena Senia
Licensed Professional Counselor, LPC
Accepting new clients in the daytime

Offers remote video sessions
Clientele
Children (<12)
Teenagers (13 - 18)
Young adults / college students (18 - 24)
Adults
Families
Parents
Hours
Mon: 10:00am-6:00pm
Tue: 10:00am-6:00pm
Wed:10:00am-6:00pm
Thu: 10:00am-6:00pm
Fri: 10:00am-6:00pm
Sat: Closed
Sun: Closed
Trauma

Post-traumatic stress disorder (PTSD)

Depression
Anxiety

Mindfulness

Suicidal ideation

Self-harm
Professional statement
Yelena Senia is a Licensed Professional Counselor in Manchester, CT who specializes in trauma, including sexual assault, childhood trauma, single-incident trauma, and PTSD. She also specializes in depression, anxiety, suicidal ideation and self-harm. She particularly enjoys working with college-age kids and females of all ages.
Yelena is trained in Dialectical Behavior Therapy (DBT) and trauma-focused therapy, including Trauma-Focused Cognitive Behavioral Therapy (TF-CBT), an evidence-based treatment for children and adolescents impacted by trauma. She also frequently integrates the Emotional Freedom Technique (EFT)/tapping, mindfulness, yoga, psychoeducation, and solution-focused therapy. Many of her sessions with DBT clients involve setting boundaries and discussing attachment, both inside and outside of therapy.
When working with clients with a history of trauma, she first spends time educating them on what is happening mentally and physically. She then offers coping strategies and encourages them to implement these tools into their daily lives. Her main goal is to make sure her clients feel safe and supported. She never wants them to feel overwhelmed or pressured to start talking about an experience before they are ready.
Yelena wants her clients to feel heard and seen as they begin their journey towards healing. Prior to working in private practice, she worked at the Journey House, a lock-down residential home for females on parole, and as part of the Mobile Crisis (211) team at the Wheeler Clinic. She looks forward to meeting you.
Specialties
Anxiety – Coping with excessive worry, nervousness, or stress; intense discomfort in social settings (social anxiety); sudden and intense feelings of panic (panic disorder)
Post-traumatic Stress Disorder (PTSD) – Healing painful experiences and memories from the past
Depression – Providing support and promoting healing of hopelessness, low motivation and energy, sadness, irritability, sleep disturbance, and loss of interest and pleasure in life
Mindfulness – Bringing one's attention to experiences occurring in the present moment
Suicidal ideation – Support living with intense pain, distress, and feelings of persistent hopelessness; strengthening meaningful relationships and experiences in one's life
Self harm – Building skills and supports to cope with emotional pain, suffering, and numbness; increasing positive meaningful life experiences
Trauma – Coping and healing after threatening or scary events, such as witnessing accidents or experiencing sexual, verbal, emotional, or physical abuse
General expertise
Personality disorders – Support reducing emotional suffering and addressing relationship challenges
Pregnancy & postpartum mental health – Addressing issues specific to women and families during the pregnancy and postpartum period, including postpartum depression and anxiety
Relationships – Understanding one's wants and needs in relationships; exploring patterns of interaction, addressing concerns, and strengthening satisfaction in relationships and dating
Self-esteem – Cultivating self-compassion, assertiveness, and confidence; developing ways to reduce suffering, anxiety, social withdrawal, and self-neglect
Stress management – Strengthening effective ways of coping with the stress of life and change; managing expectations of self and others
Insurances
Blue Cross Blue Shield

Medicare
Out-of-pocket fees
Initial/ongoing sessions: $90 (50min)
Sliding scale: A sliding scale of $50 - $90 is offered to clients who need a reduced fee to receive therapy.
Therapist's note: Yelena can provide you with paperwork for your insurance company if you are seeking out-of-network reimbursement.
Message to clients
"It is essential to feel listened to and understood from a place of compassion and humanness, a place in which the therapist simply holds space for you to be you, and guides you to a direction of self-reflection in order to tap into your true, authentic self."
Education and work experience
Private Practice, 2013 - Present
Journey House, Lock-down Residential Home for Females on Parole, 2012 - 2013
Wheeler Clinic, Mobile Crisis (211), 2009 - 2012
Wheeler Clinic, IICAPS, 2007 - 2009
Saint Joseph College, MA, 2007
Northeastern University, Masters program in ABA, 2001 - 2002
Eastern CT State University, BA, 2001