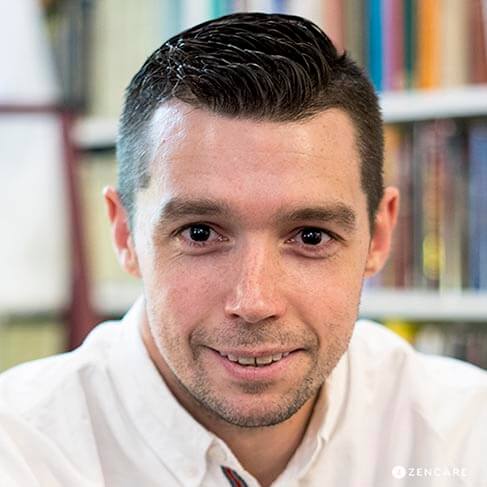 Peter Carrington
Licensed Clinical Social Worker, LCSW
Accepting new clients before 9am, daytime, after 5pm, and weekends

Offers remote video sessions
Clientele
Teenagers (13 - 18)
Young adults / college students (18 - 24)
Adults
Couples
Families
Hours
Mon: Daytime and evening
Tue: Daytime and evening
Wed: Daytime and evening
Thu: Daytime and evening
Fri: Daytime and evening
Sat: Daytime and evening
Sun: Daytime and evening
Anxiety

Addiction and recovery
Adolescents

Life transitions

Men's issues
Professional statement
Peter Carrington is a Licensed Clinical Social Worker in Fort George, NY who specializes in addiction and recovery, anxiety, men's issues, adolescent mental health, and life transitions. He has experience working with teens, adults, couples, and families. He particularly enjoys working with adolescents and young adults who are navigating social, academic, or post-college challenges.
Peter takes an eclectic treatment approach that includes a number of different modalities, including Cognitive Behavioral Therapy (CBT), Dialectical Behavior Therapy (DBT), mindfulness practices, and Supportive Therapy. He also incorporates fitness and physical wellbeing when appropriate to helps his clients manage their symptoms. When working with clients with a history of substance abuse, Peter incorporates Motivational Interviewing, Narrative Therapy, and elements of DBT.
Peter believes all of his clients have the ability to grow and make positive changes in their lives. He is there to support them on their journey. Outside of private practice, Peter is a firefighter with the FDNY. His office is located near the 190th Street subway station.
Specialties
Addiction and recovery – Coping with emotional discomfort and suffering; reducing or abstaining from unwanted behaviors such as unhealthy gambling or shopping
Anxiety – Coping with excessive worry, nervousness, or stress; intense discomfort in social settings (social anxiety); sudden and intense feelings of panic (panic disorder)
Men's Issues – Expertise in working with adult men; providing a safe and understanding space to address life challenges and promote physical and mental health
Adolescent mental health – Working with adolescents, teenagers, and parents on social, academic, and/or emotional challenges throughout teenage years; addressing anxiety, family conflicts, peer relationships, school stress, transition to college, social media pressures, self-esteem, hopelessness about the future, emotional disregulation
Life transitions – Coping with difficult or impactful life changes, such as moving to a new area, relationship transitions, child rearing, or career changes; learning self-care to better manage resulting stress
General expertise
Anger management – Addressing sudden outbursts of anger or sustained resentment; developing healthy anger expression and outlets
Anxiety – Coping with excessive worry, nervousness, or stress; intense discomfort in social settings (social anxiety); sudden and intense feelings of panic (panic disorder)
Career counseling – Support around personal and professional growth; clarifying goals and steps to building a fulfilling career and meaningful work-life balance
Depression – Providing support and promoting healing of hopelessness, low motivation and energy, sadness, irritability, sleep disturbance, and loss of interest and pleasure in life
Existential crises – Supportive exploration of meaning and purpose in one's life; finding one's path in the face of existential anxiety, dread, and feelings of meaninglessness
Relationships – Understanding one's wants and needs in relationships; exploring patterns of interaction, addressing concerns, and strengthening satisfaction in relationships and dating
Substance abuse – Reducing and preventing the negative impact of drug and alcohol use and addictions on physical, emotional, and relational health
Trauma – Coping and healing after threatening or scary events, such as witnessing accidents or experiencing sexual, verbal, emotional, or physical abuse
Insurances
Cigna

Aetna

United Healthcare

Oscar

Oxford
Out-of-pocket fees
Initial/ongoing sessions: $150 (50min)
Therapist's note: Peter can provide you with paperwork for your insurance company if you are seeking out-of-network reimbursement.
Message to clients
"Everybody is walking around holding bags of different sizes; some heavy some light. Some struggle to get through challenges because the bags they carry hold them back. Let's create strategies and new ways of thinking to lighten what you are holding so you can enjoy and grow the life you have."
Education and work experience
FDNY, Firefighter, 2017 - Present
Uptown Therapy and Wellness, Therapist, Private Practice, 2015 - Present
Phipps Neighborhood, Social Work Program Director, 2016 - 2017
KIPP Charter, School Counselor, 2015 - 2016